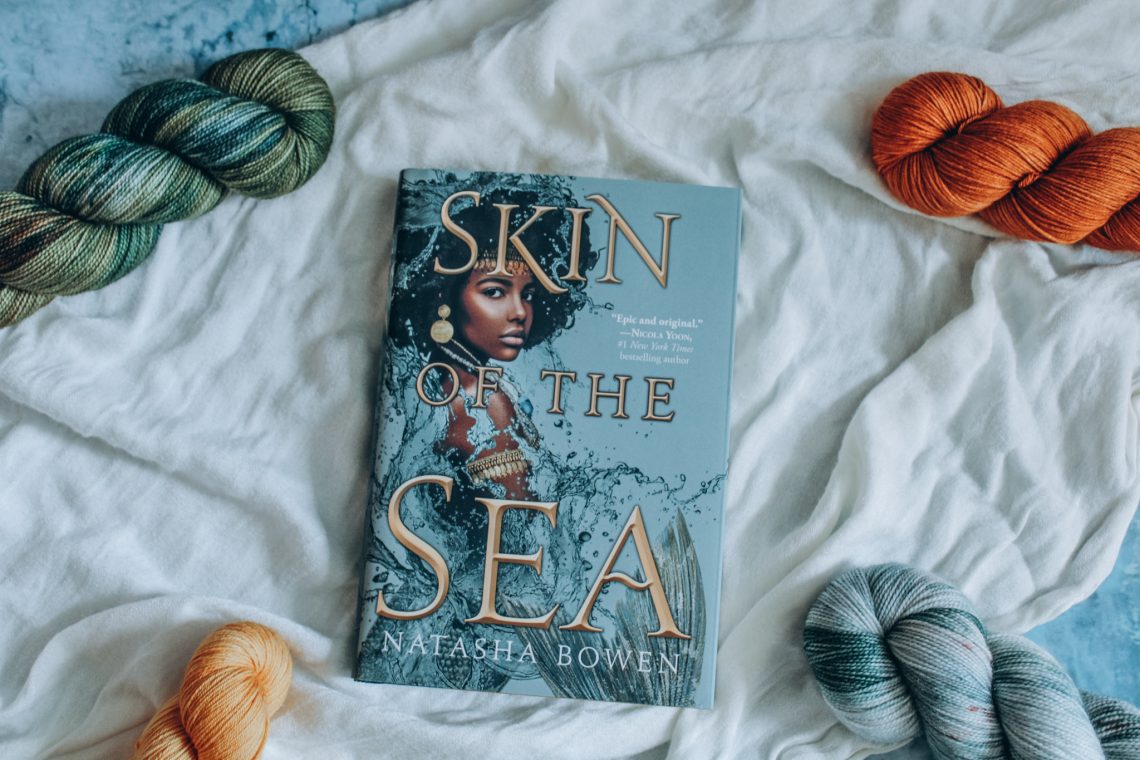 Episode 84: Skin of the Sea by Natasha Bowen (and the end of Season 5!)
We're finishing out Season 5 strong with this discussion of Skin of the Sea by Natasha Bowen. Simidele has been transformed into a Mami Wata (aka mer-person) by the orisa Yemoja, tasked with gathering souls of Africans who fall, jump, or are thrown into the sea from enslavers' ships. Chaos ensues when Simidele strays from the brief and rescues Adekola (or Kola for short) from drowning. There's a quest, a trickster figure, cool side characters, and the book is bursting with magic inspired by various African folklores, mythologies, and cultures. 
We both loved this book, from the unique premise and character development to the expansive world building that completely immersed us (no water pun intended! #shocking for k, lol).
Content Warning (from the front matter of the book itself! we love to see it!): "Skin of the Sea blends fifteenth-century history with fantasy, and there are depictions of violence, enslavement, death, and suicide."
Whether you're new to the show or a long-time listener, thank you for joining us! We're taking a break for now (length TBD), so be sure to subscribe wherever you get your podcasts… just in case there are any surprise drops on the feed 😉
---
Recommend if you like…

Children of Blood and Bone

series by Tomi Adeyemi 

Black Panther 

comics and films

[for the littles] Born on the Water by Nikole Hannah Jones and Renée Watson. Illustrated by Nikkolas Smith.
The Little Mermaid slash mermaids in general
The Deep a novella by Rivers Solomon with

Daveed Diggs, William Huston, and Johnathan Snipes

"Venus in Two Acts" by Saidiya Hartman (free article PDF)
"Mathematics in Black Life" by Katherine McKittrick (free article PDF)
the mer-mazing docuseries that kelly mentions is Merpeople (on Netflix)
---
Podcast: Play in new window | Download
Subscribe: RSS
---
As always, we'd love to be in discussion with you, magical people. Reach out to us on Instagram (@thelibrarycoven) or via email (thelibraycoven@gmail.com).
Access complete show notes on our website, thelibrarycoven.com.
We really appreciate ratings and reviews on iTunes, Google Podcasts, Spotify, or any other platforms. Help us share the magic by spreading the word about the podcast!
You can support our labor by leaving us a one-time tip on Ko-fi or purchasing books from our Bookshop! Better yet, become a monthly patron via Patreon and you can unlock a bunch of exclusive perks like access to our community of reader-listeners on Discord.
Our cover art is by the talented artist nimsby. The podcast theme song is "Unermerry Academy of Magics" by Augustin C from the album "Fantasy Music", which you can download on FreeMusicArchive.com.
We support #LandBack. The Library Coven is recorded and produced on stolen indigenous land: Arapahoe, Cheyenne, and Ute (kelly) and Chickasha, Kaskaskia, Kickapoo, Mascoutin, Miami, Mesquaki, Odawa, Ojibwe, Peankashaw, Peoria, Potawatomi, Sauk, and Wea (Jessie)