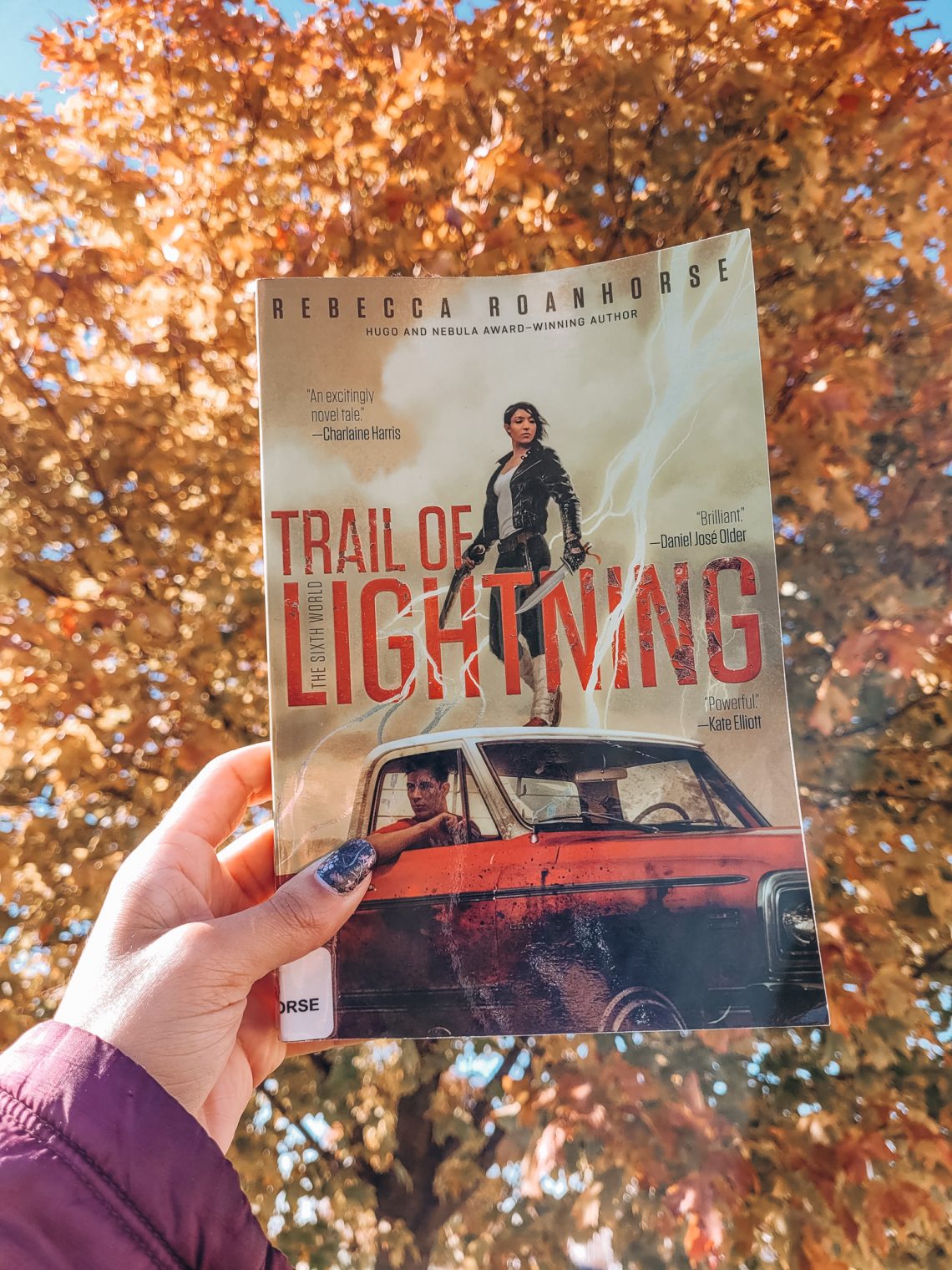 Episode 61: Trail of Lightning by Rebecca Roanhorse
Hello, coven! We're back with a conversation about Trail of Lightning by Rebecca Roanhorse. There's some debate as to whether or not the book is young adult, but we enjoyed it regardless. Show notes below!
Content warning: brief mention of sexual assault (24:55-25:40) 
---
Why did we pick this book? J read

Black Sun

by Rebecca Roanhorse  when it came out with her book club. (patron/friend-of-the-show) Deanna said

Trail of Lightning

was also really good, and we're always looking to add more diverse voices to the podcast!

Should we make merch with J's tagline "Chaos Ensues"?

Recommend if you like…

[read-alikes mostly, but also other media, film, tv, etc.] 

The Marrow Thieves

by Cherie Dimaline if you're interested in Indigenous stories about the end of the world. (We talk about The Marrow Thieves in episode 30)

Reservation Dogs

on Hulu which scatters in Indigenous stories and is set in the modern day

Elatsoe

by Darcie Little Badger, which we read quite recently (episode 57). It would be good for younger readers

If you're into monster hunting stories, you'll like

Trail of Lightning

Also the film 

Mad Max: Fury Road 

K recently watched that movie San Andreas with Duane The Rock Johnson
What is it with apocalypse movies/shows/stories and fingerless gloves?
Libraries are crucial archives for keeping information and languages accessible for future generations. In the novel Kai listens to elders' testimonies – underscoring the importance of indigenous oral traditions
Avatar the Last Airbender
Trail of Lightning is book 1 of a series called

The Sixth World

. Book 2 is called

Storm of Locusts

and it's already out (published in 2019). Can't wait to see what happens next!

From J: "It should be noted there has been some push back from some Indigenous groups about Trail of Lightning. I'll link to a couple of the articles I read about the issues, but the gist of it is that Roanhorse is not Navajo and she is not from a federally recognized tribe. I can't speak to these issues, but what I do feel like I can say is that a tribe being federally recognized should not be the only thing that makes someone Indigenous. The history of this country has shown us that much. Additionally, Roanhorse is half Black, and anti-Blackness abounds in every community – including Black communities. So I'm a little skeptical, but I'm also not Indigenous, so I can't speak to the issues of appropriation in any way, because I am not familiar with the cultural practices of the many many Indigenous tribes. Based on some of the critiques I read, perhaps if the book came with a content warning regarding the violence in the story, there would have been less pushback?" You can read some of the articles below if you're interested, and we'd love to hear your thoughts.
Debbie Reese's blog American Indians in Children's Literature
---
Podcast: Play in new window | Download
Subscribe: RSS
---
As always, we'd love to be in discussion with you, magical people. Drop us a line in the comments or reach out to us on twitter, Instagram (@thelibrarycoven), or via email (thelibraycoven@gmail.com).
Access complete show notes on our website, thelibrarycoven.com.
We really appreciate ratings and reviews on iTunes, Google Podcasts, Spotify, or any other platforms. Help us share the magic by spreading the word about the podcast!
You can support our labor by leaving us a one-time tip on Ko-fi or purchasing books from our Bookshop! Better yet, become a monthly patron via Patreon and you can unlock a bunch of exclusive perks like access to our community of reader-listeners on Discord.
Our cover art is by the talented artist nimsby. The podcast theme song is "Unermerry Academy of Magics" by Augustin C from the album "Fantasy Music", which you can download on FreeMusicArchive.com.
We support #LandBack. The Library Coven is recorded and produced on stolen indigenous land: Arapahoe, Cheyenne, and Ute (Kelly) and Chickasha, Kaskaskia, Kickapoo, Mascoutin, Miami, Mesquaki, Odawa, Ojibwe, Peankashaw, Peoria, Potawatomi, Sauk, and Wea (Jessie)