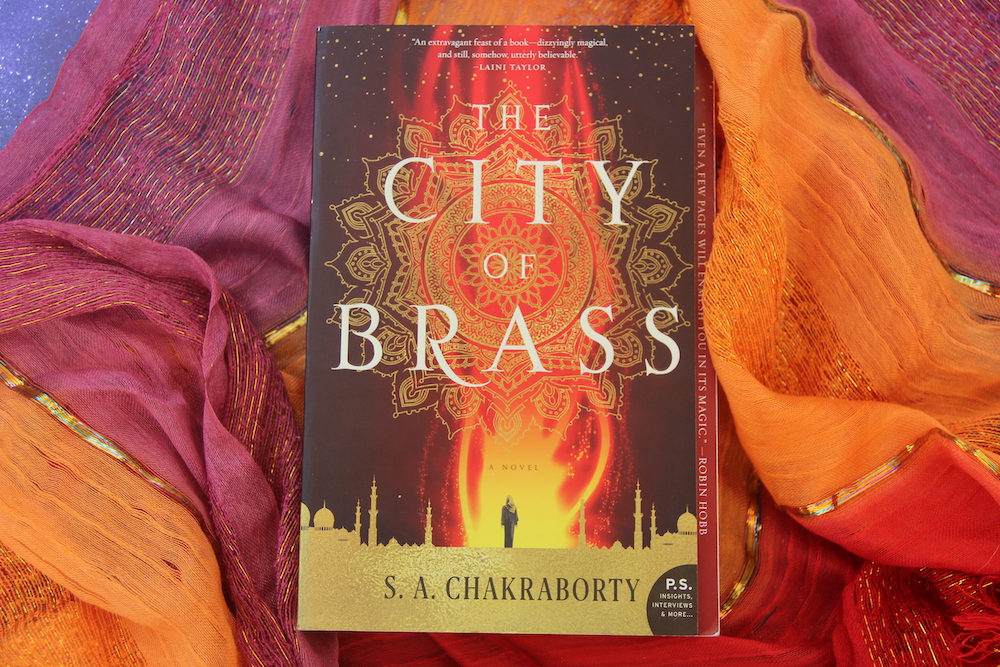 Episode 23: The City of Brass by S.A. Chakraborty
Magical listeners! We're taking a break from YA this fortnight to bring you an episode about the incredible fantasy novel The City of Brass by S.A. Chakraborty. The show notes happen to be long this time — why not research-it-up and check out the links to learn some stuff?
---
About magic, fiction, history, religion, language:
The author has curated a reading list of narrative sources, primary sources, and folktales about the "early Islamic world" (a very broad term) for those who are interested in learning more.
Book 2 of the Daevabad trilogy, The Kingdom of Copper, came out in January 2019 (we can't wait to read it!). The Empire of Gold, the series' final installment, is scheduled for release in January 2020.
Chakraborty did an excellent interview on the podcast 88 Cups of Tea with Yin Chang. During the interview, Chakraborty specifically addresses being white and writing about the Islamic World. Definitely worth a listen.
Is your memory of the Book of Genesis a bit rusty? Refresh your memory about the Tower of Babel story.
On Judaism (religion? race? nation? culture? ethnicity?). On the term "Muslim" as religion or ethnicity.
A very helpful review of Enzo Traverso's book Fire and Blood: The European Civil War, 1914-1945. Key terms include: "European Civil War", "hot" vs. "cold violence", and "technological responsibility". Traverso actually came out with a new book in 2019 on a related topic (The New Faces of Fascism: Populism and the Far Right), but we haven't read it yet.
Modesty fashion is on the rise. Here is a quick overview and some links to fabulous modesty fashion bloggers.
Arabic does indeed have gender for nouns (masculine and feminine options only). More details for language nerds here.
K isn't the only one who finds Poe Dameron annoying. See this reddit thread: "Wow, people are really mad at Poe Dameron".
We mention "breaking the wheel" a few times over the course of this episode, so here's a gif for good measure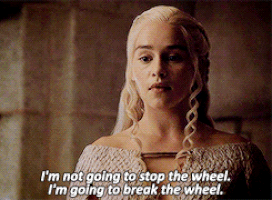 About contemporary politics:
About random things:
Cuddle parties are a real thing. Here's a recap of someone's experience at one.
---
Podcast: Play in new window | Download
Subscribe: RSS
---
Transcript to come Spring 2021
---
As always, we'd love to be in discussion with you, magical folx. Post or tweet about the show using #criticallyreading. Let us know what you think of the episode, anything we missed, or anything else you want us to know by dropping a line in the comments or reaching out to us on twitter or Instagram (@thelibrarycoven), or via email (thelibraycoven@gmail.com). You can also check out the show notes on our website, thelibrarycoven.com.
We really appreciate ratings and reviews on iTunes, Google Podcasts, Spotify, or any other platforms. Help us share the magic by spreading the word about the podcast!
Please support our labor by leaving us a one-time tip on Ko-fi or purchasing books from our Bookshop! Even better yet, become a monthly patron via Patreon and you can unlock a bunch of exclusive perks like mini-sodes, bonus episodes, and access to our community of reader-listeners on Discord.
The podcast theme song is "Unermerry Academy of Magics" by Augustin C from the album "Fantasy Music", which you can download on FreeMusicArchive.com.
JK, it's magic is recorded and produced on stolen indigenous land: Arapahoe, Cheyenne, and Ute (Kelly) and Chickasha, Kaskaskia, Kickapoo, Mascoutin, Miami, Mesquaki, Odawa, Ojibwe, Peankashaw, Peoria, Potawatomi, Sauk, and Wea (Jessie)
You can support Indigenous communities by donating to Mitakuye Foundation, Native Women's Wilderness, or the Navajo Water Project. These suggested places came from @lilnativeboy