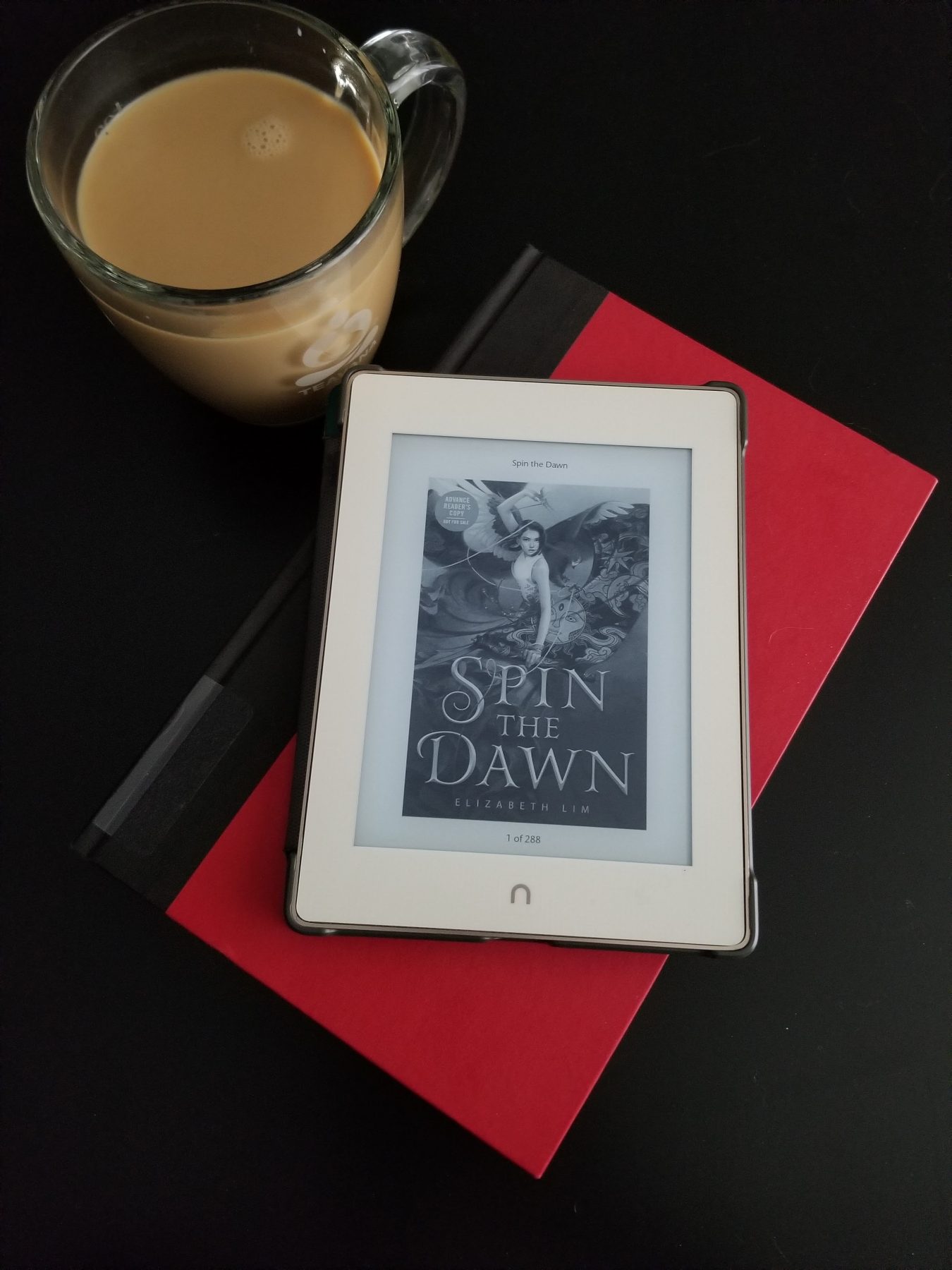 Episode 24: Spin the Dawn by Elizabeth Lim
Hello, dear listeners! This fortnight we're reading Spin the Dawn by Elizabeth Lim, a new retelling of Mulan. We found some pretty problematic areas in the book, but found the story quite captivating overall. As a note, we did receive this book as an ARC, but our feelings and reactions to the story are honest.
Content Warning: This book deals with some heavy violence issues. It comes up briefly in the episode.
---
First, we would like to point out that we talked about there being a "miracle cure" for a disability in the book. Apparently, this was changed in the final book, but there are still issues of ableism and the main character pretending to be disabled. See more conversation on the topic via this twitter thread and this one
There was not a map on the author's website
We talked a ton about knitting and the fiber arts. I found some videos on learning to knit (one that I used), embroider, and sew, for anyone who may be interested.
Fiber arts is a wide ranging field, and the history is vast. As a side note, we would like to mention that we stand with Ravelry's recent decisions to ban support of a certain administration on their site. The knitting community has been talking about racism and diversity within the community for a few months now, or at least it's been at the forefront of discussions since then. If you are a crafter, I would suggest following people from diverse backgrounds, purchasing products from BIPOC creators, and standing against those who spew hate
The following are the links we used when we talked about The Poppy War, as religion in China came up again in this episode: the current state of religion in China, religion in China in general, Chinese folk religion, Chinese mythology, and Han Chinese
I couldn't find any reliable sources about hawks in Chinese literature. Does anyone have any information about that?
The djinn seem to be particular to Islamic culture, and I couldn't find anything about Chinese culture in particular. There was mention of the Devas in Buddhism in the above article. Buddhists made up about 15% of religious affiliation in China in 2014, as stated in the articles regarding religion
We mentioned colorism in the Asian community, and we will leave that to the voices of people from the Asian community, Simra Mariam and Rachel Ramirez, to speak about
K mention Caliban and the Witch by Silvia Federici
We mentioned how straw bans can hurt people with disabilities. This is a good time to mention, not all disabilities are visible. Don't shame someone who is using a straw, you may not know the reason why
If you didn't know much about the college bribery scandal, here's some more information, and info on how it effects students with disabilities
Aja Barber is J's go to person for learning more about sustainable clothing. Follow her on Instagram, and support her work on Patreon!
Fleabag is J's new favorite TV obsession. Season 2 is so perfect, and you should definitely watch it!
Yes, YA twitter is not afraid to call out problematic issues in book, like the problems in Spin the Dawn. Yes, some books should be cancelled. And no, we're not always wrong!
Diversity Baseline Survey from 2015. The book publishing industry is mostly white, able bodied, straight, cis-women. Which likely contributes to the lack of diversity in the books being published.
In 2012, 55% of YA books were purchased by adults, with 78% of those purchases being for themselves. Which may be part of the reason some books that are marketed for teens seem so mature.
J recommends White Fragility by Robin DiAngelo, yet again!
K recommends Pleasure Activism by Adrienne Maree Brown
K recommends Episode 4: The Anatomy of an Apology from the podcast Intersectionality Matters
Does anyone have suggestions for fantastic New Adult fantasy books? Drop a line in the comments and let us know!
Finally, there are some meows from the podcat, Lainey, at the end of the episode (and some bell sounds). She just wanted to say hi to you all!
---
Podcast: Play in new window | Download
Subscribe: RSS
---
Transcript to come Spring 2021
---
As always, we'd love to be in discussion with you, magical folx. Post or tweet about the show using #criticallyreading. Let us know what you think of the episode, anything we missed, or anything else you want us to know by dropping a line in the comments or reaching out to us on twitter or Instagram (@thelibrarycoven), or via email (thelibraycoven@gmail.com). You can also check out the show notes on our website, thelibrarycoven.com.
We really appreciate ratings and reviews on iTunes, Google Podcasts, Spotify, or any other platforms. Help us share the magic by spreading the word about the podcast!
Please support our labor by leaving us a one-time tip on Ko-fi or purchasing books from our Bookshop! Even better yet, become a monthly patron via Patreon and you can unlock a bunch of exclusive perks like mini-sodes, bonus episodes, and access to our community of reader-listeners on Discord.
The podcast theme song is "Unermerry Academy of Magics" by Augustin C from the album "Fantasy Music", which you can download on FreeMusicArchive.com.
JK, it's magic is recorded and produced on stolen indigenous land: Arapahoe, Cheyenne, and Ute (Kelly) and Chickasha, Kaskaskia, Kickapoo, Mascoutin, Miami, Mesquaki, Odawa, Ojibwe, Peankashaw, Peoria, Potawatomi, Sauk, and Wea (Jessie)
You can support Indigenous communities by donating to Mitakuye Foundation, Native Women's Wilderness, or the Navajo Water Project. These suggested places came from @lilnativeboy