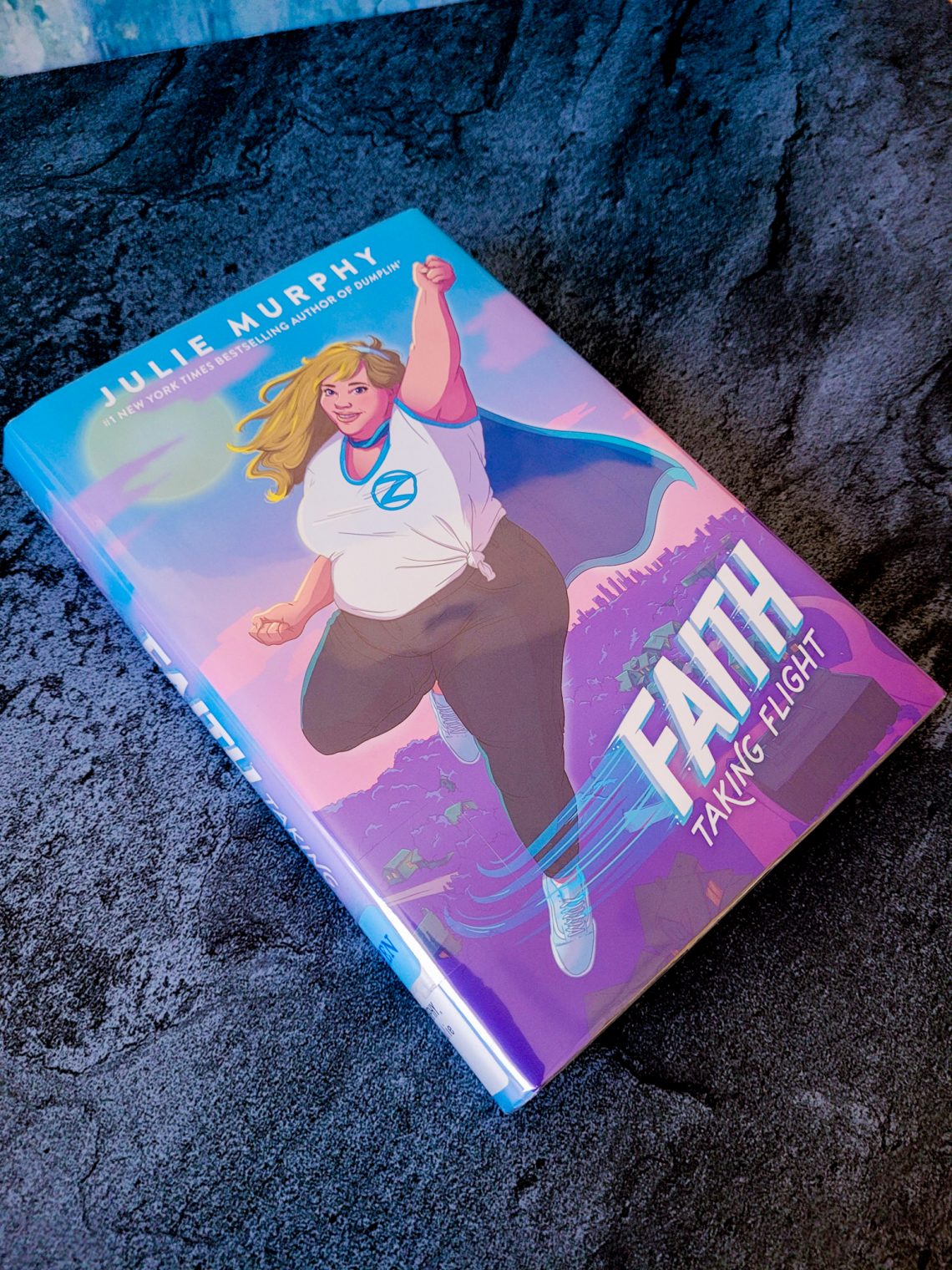 Episode 64: Faith: Taking Flight by Julie Murphy
Ahoy there, coven! Today we're discussing Faith: Taking Flight by Julie Murphy, a book about a nerdy suburban teen who can fly. After Faith's all-time favorite show The Grove moves filming to her small town, a spate of human and other-than-human disappearances starts, and Faith is determined to get to the bottom of things. Chaos does indeed ensue! 
This book was recommended to us by someone on Instagram a while back. So if that was you, let us know so we can give you credit 🙂 If memory serves, this person mentioned wanting to see more books with fat representation. 
Just so you know, around 27:30 we talk briefly about renowned TERF-turd she-who-shall-not-be-named (JKR) in the context of using fandoms as inter-texts for world building. Take care of yourselves and feel free to skip past this section.
---
Recommend if you like…

Anything to do with fandom, so many of them got a mention in the book

Ship It

by Britta Lundin (which we reviewed waaaay back in episode 3!)

Any comic book superhero things

The Bright Sessions podcast and/or

The Infinite Noise

and subsequent books by Lauren Shippen

Riverdale – comics or the first few seasons of the tv show before things went really off the rails lol

Here's a whole scholarly article from a law and criminology journal that explains the phenomenon known as "missing white woman syndrome"
The sequel, Faith: Greater Heights is already out!
In doing some research while editing this episode, I found out that this series is based on the Zephyr comic book hero from the company Valiant Entertainment. There's so many comics starring Faith – check them out here!

Here's

a whole CodeSwitch episode

about the historical origins of the phrase "cake walk" – which, as we discuss in the episode, harkens back to the time of chattel slavery. I interrupt this kind of language with "did you know??" and then infodump. Personally don't say "rule of thumb" either (reference to legal spousal abuse)

Stay tuned 'til the end to hear us discuss our celebrity crushes! It's only fair since Faith basically starts dating hers in the book
---
Podcast: Play in new window | Download
Subscribe: RSS
---
As always, we'd love to be in discussion with you, magical people. Drop us a line in the comments or reach out to us on twitter, Instagram (@thelibrarycoven), or via email (thelibraycoven@gmail.com).
Access complete show notes on our website, thelibrarycoven.com.
We really appreciate ratings and reviews on iTunes, Google Podcasts, Spotify, or any other platforms. Help us share the magic by spreading the word about the podcast!
You can support our labor by leaving us a one-time tip on Ko-fi or purchasing books from our Bookshop! Better yet, become a monthly patron via Patreon and you can unlock a bunch of exclusive perks like access to our community of reader-listeners on Discord.
Our cover art is by the talented artist nimsby. The podcast theme song is "Unermerry Academy of Magics" by Augustin C from the album "Fantasy Music", which you can download on FreeMusicArchive.com.
We support #LandBack. The Library Coven is recorded and produced on stolen indigenous land: Arapahoe, Cheyenne, and Ute (Kelly) and Chickasha, Kaskaskia, Kickapoo, Mascoutin, Miami, Mesquaki, Odawa, Ojibwe, Peankashaw, Peoria, Potawatomi, Sauk, and Wea (Jessie)