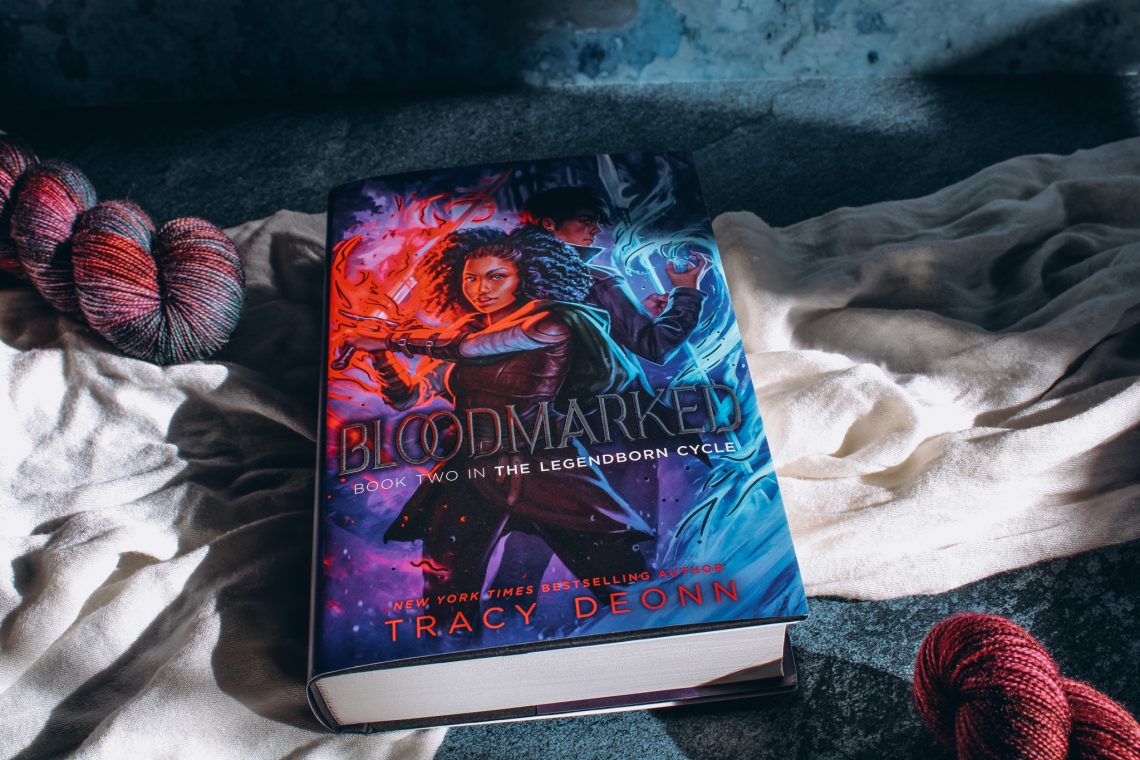 Episode 75: Bloodmarked by Tracy Deonn
It's finally here, y'all! Our discussion of Bloodmarked by Tracey Deonn, the eagerly anticipated and long awaited sequel to Legendborn. This book picks up right where we left off in Legendborn. There are lots of weird politics, tons of racism, and so much tension between Sel and Bree that it made J's cold, dead heart very happy. So let's get into it!
A note on scheduling: we're taking a wee winter break! That means after our year-in-review episode, you can expect new, fortnightly shows beginning on February 7th.
Content Warning for anti-Black racism.
---
Recommend if you like…

The Kaz/Inej tension of Six of Crows and Crooked Kingdom by Leigh Bardugo**

Arthurian legend stuff…but not by dusty old white guys 😉 

Only a Monster by Vanessa Len
Labyrinth Lost slash the entire Br0oklyn Brujas series by Zorida Cordova**
LL McKinney's Nightmareverse books (A Blade so Black, A Dream so Dark)**
** we've done several episodes for this series! but you don't have to take our word for it – go ahead and scroll thru our episodes page. And if you want to refresh your memory, check out our episode on Legendborn.
Why did we choose this book? #obvi it was always going to be in the lineup! Legendborn was just soooo good. 
---
Podcast: Play in new window | Download
Subscribe: RSS
---
As always, we'd love to be in discussion with you, magical people. Drop us a line in the comments or reach out to us on twitter, Instagram (@thelibrarycoven), or via email (thelibraycoven@gmail.com).
Access complete show notes on our website, thelibrarycoven.com.
We really appreciate ratings and reviews on iTunes, Google Podcasts, Spotify, or any other platforms. Help us share the magic by spreading the word about the podcast!
You can support our labor by leaving us a one-time tip on Ko-fi or purchasing books from our Bookshop! Better yet, become a monthly patron via Patreon and you can unlock a bunch of exclusive perks like access to our community of reader-listeners on Discord.
Our cover art is by the talented artist nimsby. The podcast theme song is "Unermerry Academy of Magics" by Augustin C from the album "Fantasy Music", which you can download on FreeMusicArchive.com.
We support #LandBack. The Library Coven is recorded and produced on stolen indigenous land: Arapahoe, Cheyenne, and Ute (kelly) and Chickasha, Kaskaskia, Kickapoo, Mascoutin, Miami, Mesquaki, Odawa, Ojibwe, Peankashaw, Peoria, Potawatomi, Sauk, and Wea (Jessie)