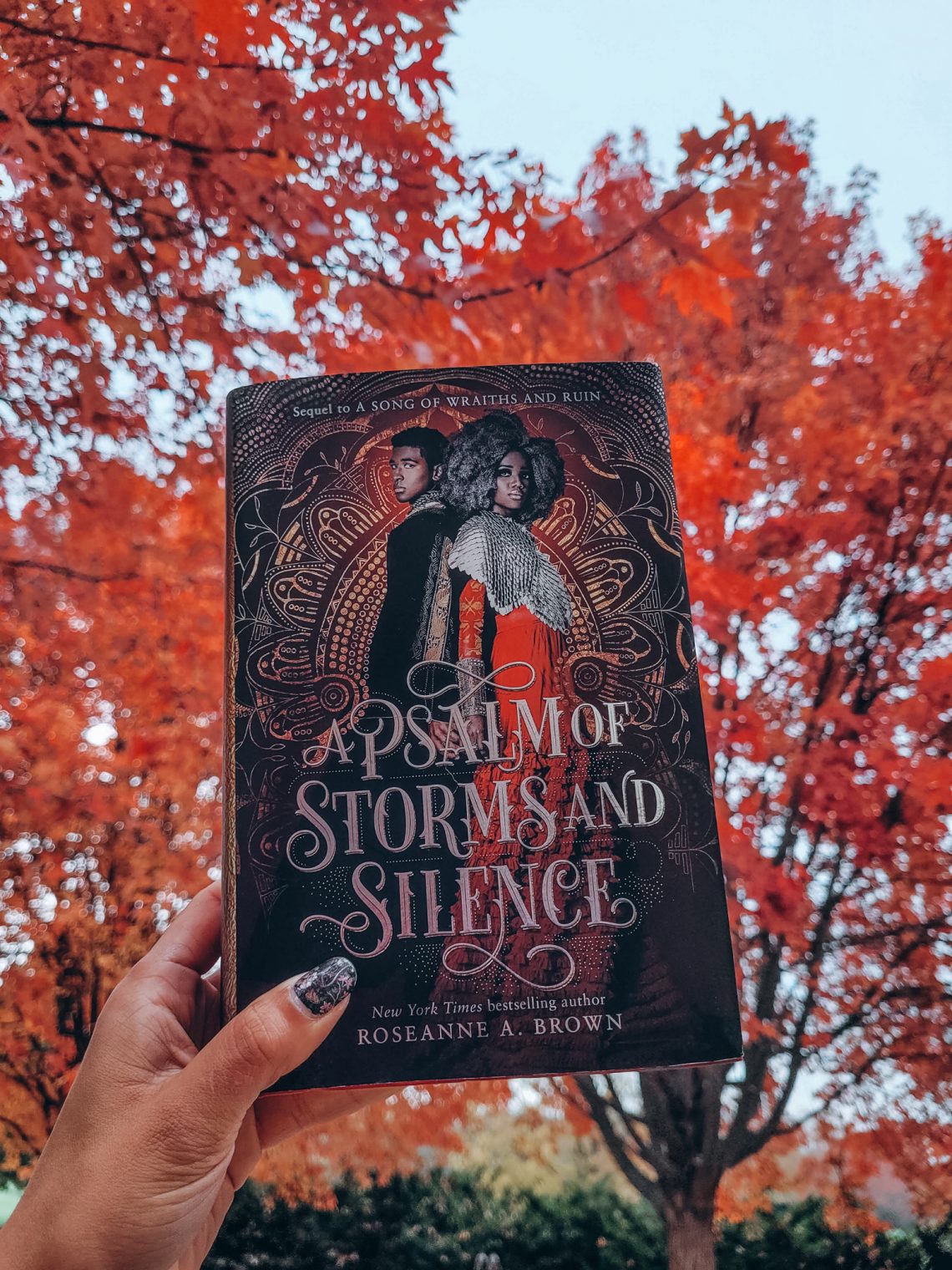 Episode 67: A Psalm of Storms and Silence by Roseanne A. Brown
Welcome back, coven! In this episode we are discussing A Psalm of Storms and Silence by Roseanne A. Brown, the sequel to A Song of Wraths and Ruin which we talked about all the way back in episode 39! This book picks up right were the last one left off with Karina on the run and Malik living in the palace with Hanan who was brought back from the dead, and Fareed basically in control of everything. Chaos does indeed ensue!
Content warning for discussions of self-harm, suicidal ideation, and miscarriage. Take care of yourself folks, and if you don't feel up to listening to this episode at the moment, feel free to come back to it later or skip this one. We'll talk about it in the "Kill Your Darlings" segment towards the end and provide a warning there, too [37:11-39:48]. 
---
This season of the show is quickly wrapping up! Only If you want a say in what books we read and talk about next season and you want to be in communication with a great group of people who talk about books, baking, and yarn, consider joining our patreon!

Recommend if you like…

[read-alikes mostly, but also other media, film, tv, etc.] 

Hyena is a trickster like Coyote (Trail of Lightning) or Loki (Norse mythology). This is a common type of god in many different belief systems. Here are a 

couple of

different

resources

, since it's really cool to see how they overlap!

[cw: miscarriage]

There is mention at the beginning of the book that Hanan and Karina's mother had been through a few miscarriages, and this is a YA book, but I think it's important for people to know that

10-20% of pregnancies

end in a miscarriage, and because we don't talk about that, many people who experience them feel like it's their fault. So I appreciated this mention in a book for young people who may have had loved ones who experienced a miscarriage or they may have experienced them themselves, so it's important to have these kinds of discussions.

[cw: suicide and self harm]

We see Malik using self harm as a way to control his mind, and the god living there, and thinking about killing himself. This is another thing that I think can be an important topic to talk about with young people. I hope people know there are people who are there for you and want to help you, and if you need help, please reach out. We'll link to the

suicide prevention hotline

and the

trevor project

in case you feel like you need someone to reach out to. 
---
Podcast: Play in new window | Download
Subscribe: RSS
---
As always, we'd love to be in discussion with you, magical people. Drop us a line in the comments or reach out to us on twitter, Instagram (@thelibrarycoven), or via email (thelibraycoven@gmail.com).
Access complete show notes on our website, thelibrarycoven.com.
We really appreciate ratings and reviews on iTunes, Google Podcasts, Spotify, or any other platforms. Help us share the magic by spreading the word about the podcast!
You can support our labor by leaving us a one-time tip on Ko-fi or purchasing books from our Bookshop! Better yet, become a monthly patron via Patreon and you can unlock a bunch of exclusive perks like access to our community of reader-listeners on Discord.
Our cover art is by the talented artist nimsby. The podcast theme song is "Unermerry Academy of Magics" by Augustin C from the album "Fantasy Music", which you can download on FreeMusicArchive.com.
We support #LandBack. The Library Coven is recorded and produced on stolen indigenous land: Arapahoe, Cheyenne, and Ute (Kelly) and Chickasha, Kaskaskia, Kickapoo, Mascoutin, Miami, Mesquaki, Odawa, Ojibwe, Peankashaw, Peoria, Potawatomi, Sauk, and Wea (Jessie)