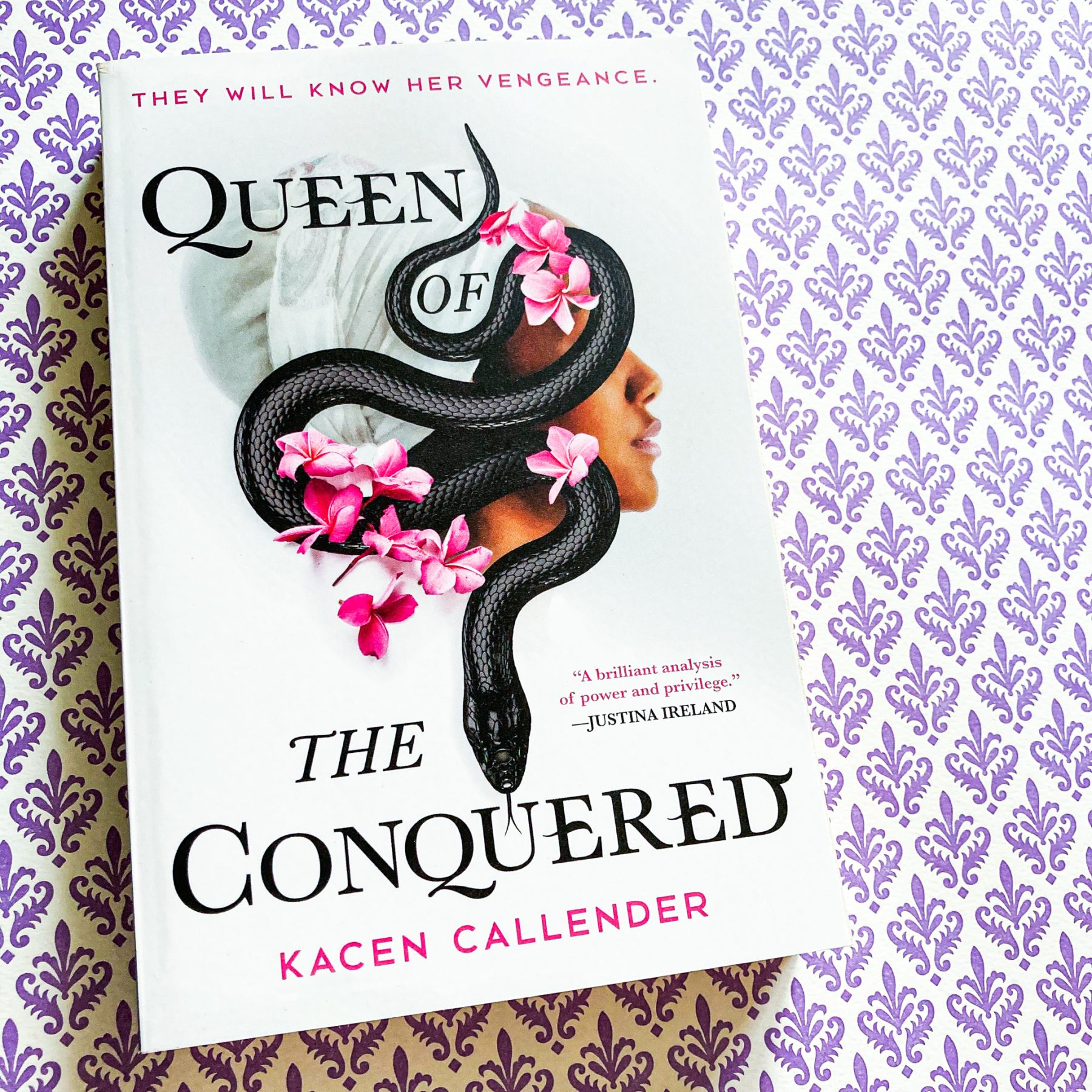 Episode 45: Queen of the Conquered by Kacen Callender
In this episode we're discussing Queen of the Conquered Kacen Callender (they/them), the first book in the Islands of Blood and Storm series. The book takes place in a Caribbean-inspired fantasy world and follows our main character, Sigourney, as she makes a bid for power as the only Black person in contention to rule the islands that have been colonized by the white Fjern. When all those in line to the throne are gathered for the storm season and start to be killed off one by one, chaos ensues. As it does.
Content warning for discussions of rape and white supremacist violence. 
---
Callender also wrote Felix Ever After. It's on our TBR! Have you read it yet?
Here's a helpful video outlining the history of colonialism in the Caribbean region. It's about 40 minutes long, and well worth the watch. Check it out!
Want to test your Caribbean geography? Here's a map quiz. I (K) just took it and got 62% *cringing emoji* Go ahead, learn yourself something.
Fjerda, Fjern…notice the similarities? In Norwegian, "fjern" means "far away" or "distant."
K highly recommends Sami Schalk's work, especially her book Bodyminds Reimagined: Race, (Dis)Ability and Gender in Black Women's Speculative Fiction. And follow Professor Schalk on twitter! (@DrSamiSchalk)
Resmaa Menakem's website. K is slowly working their way through his book My Grandmother's Hands: Racialized Trauma and the Pathway to Mending Our Hearts and Bodies. 
---
Podcast: Play in new window | Download
Subscribe: RSS
---
Transcript to come Spring 2021
---
As always, we'd love to be in discussion with you, magical folx. Post or tweet about the show using #criticallyreading or #thelibrarycoven. Let us know what you think of the episode, anything we missed, or anything else you want us to know by dropping a line in the comments or reaching out to us on twitter or Instagram (@thelibrarycoven), or via email (thelibraycoven@gmail.com). You can also check out the show notes on our website, thelibrarycoven.com.
We really appreciate ratings and reviews on iTunes, Google Podcasts, Spotify, or any other platforms. Help us share the magic by spreading the word about the podcast!
Please support our labor by leaving us a one-time tip on Ko-fi or purchasing books from our Bookshop! Even better yet, become a monthly patron via Patreon and you can unlock a bunch of exclusive perks like access to our community of reader-listeners on Discord.
The podcast theme song is "Unermerry Academy of Magics" by Augustin C from the album "Fantasy Music", which you can download on FreeMusicArchive.com.
The Library Coven is recorded and produced on stolen indigenous land: Arapahoe, Cheyenne, and Ute (Kelly) and Chickasha, Kaskaskia, Kickapoo, Mascoutin, Miami, Mesquaki, Odawa, Ojibwe, Peankashaw, Peoria, Potawatomi, Sauk, and Wea (Jessie)
#LandBack. You can support Indigenous communities by donating to Mitakuye Foundation, Native Women's Wilderness, or the Navajo Water Project. These suggested places came from @lilnativeboy.