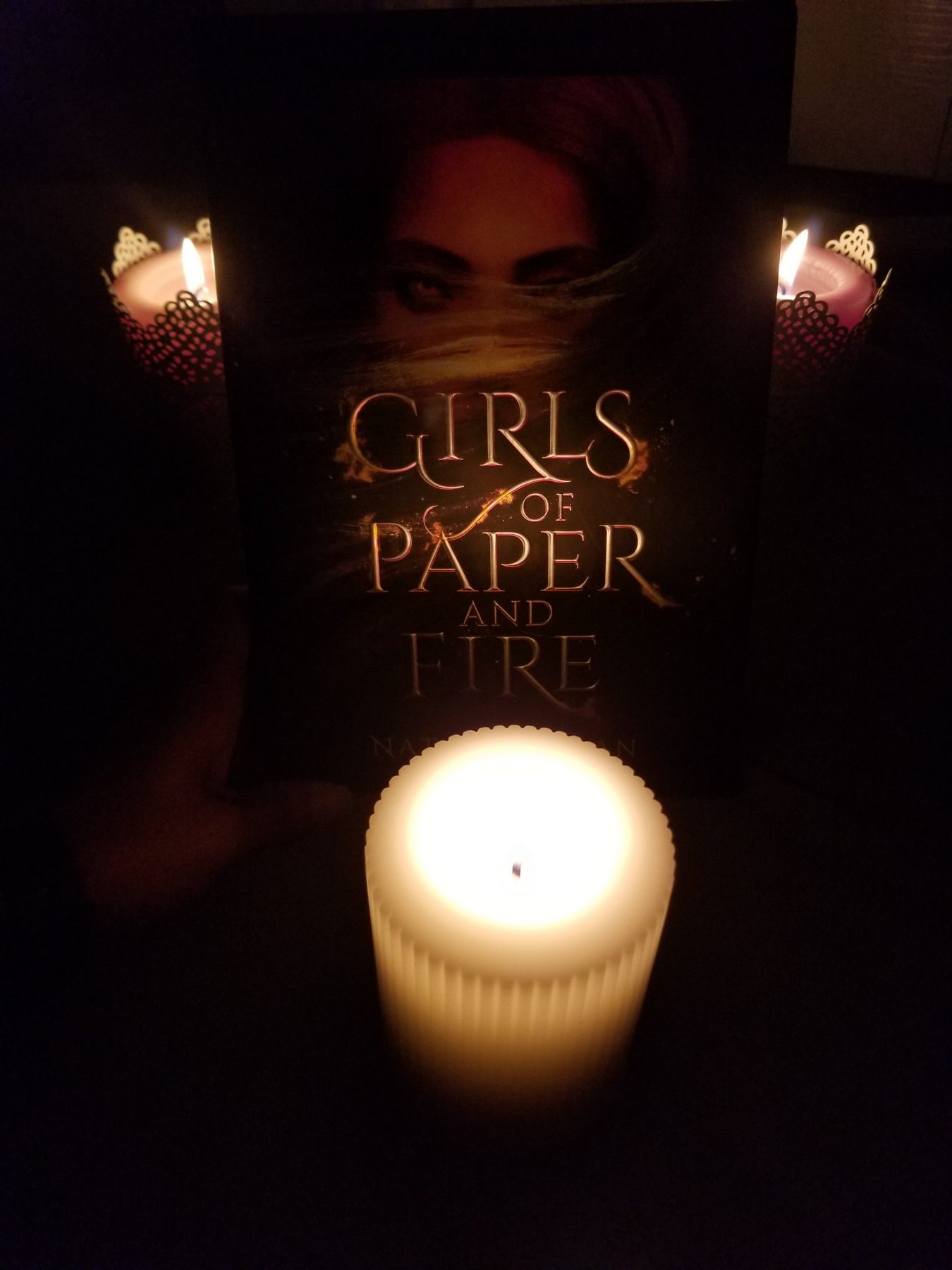 Episode 11: Girls of Paper and Fire by Natasha Ngan
Happy New Year, Listeners! We are excited to read and discuss new (and old) book with this year. Any suggestions for books you'd like to read with us? This fortnight we're discussing Girls of Paper and Fire by Natasha Ngan . J & K have some mixed feeling about this book. We loved the elaborate back story and well fleshed out setting, but had some difficulty with the pacing. And obvi, we were excited to have many different kinds of representation in this book. What were your thoughts about this story?
Content Warning: In this episode we discuss sexual assault and rape  If you or someone you know are the victim of sexual assault and would like assistance, please call RAINN or if you are a member of the LGBTQIA community in crisis, and would like someone to talk to, please contact The Trevor Project. These resources are free and confidential!
---
This week's show notes are a bit long, but we're here to provide you with all the background info we can!
 There are spoilers for both the movie John Wick and and A Court of Thorns and Roses by Sarah J. Maas
J & K put a lot of pressure on loving this book because it told stories we haven't read before. And I (J) was hesitant to criticize the book too much because I think these kinds of representation are important (as the episode goes on, I get much more comfortable). It was the Rep Sweats. Listen to this fantastic episode about the Rep Sweats from Code Switch. They focuses a lot on Asian American Rep Sweats, which is pretty on target since that's part of what we're talking about in Girls of Paper and Fire. Kat Chow also discusses her Rep Sweats from when Crazy Rich Asians came out. It's worth a read.
Shamanism came up in both Through the Wardrobe and One Does Not Simply… There is so much information, but Britannica has a good overview of Shamaninism within Asian culture and in other regions.
Free Will vs Causal Determinism ( which has come up in a few different episodes) and Compatibilism (which is supposed to reconcile the Free Will and Determinism). The Stanford Encyclopedia of Philosophy offers an in depth overview of all three. There are also these great videos from Crash Course that describe all three in a much shorter amount of time, and they're entertaining! – Determinism vs Free Will – Compatibilism –
J mentions an English political/comedy show, here's Russell Howard's interview of Adam Kay, the former doctor who wrote about his time working as a doctor for the NHS in This is Going to Hurt: Secret Diaries of a Junior Doctor
K mentions Jakelin Caal Maquin when talking about the people we are and are not allowed to mourn, and we think it's important to remember those who have died due to the actions of our government. We will remember Jakelin Caal Maquin.
More information on the Reagan Administration's foreign policy. K talked about his dealings with South America in particular.
We are not mourning the death of George H. W. Bush, who ramped up the war on drugs (among other terrible policies) which increasingly affected POCs, and lead to initiatives like stop and frisk.
Here's more information on China's internet policies, human rights' violations, and the growing power of their president, Xi Jingping.
In the world of Girls of Paper and Fire there's a caste system in place.  Here's more information (it is particular to India, as was much of the information on caste systems).
There are a lot of women holding up the patriarchy in this book. Please ready "What is Toxic White Feminism" by Rachel Cargle
Read Selfish, Shallow, and Self-Absorbed by Meghan Daum and The Mother of All Questions  by Rebecca Solnit for more discussion on women and their worth being tied to having children.
K highly recommends watching Nanette by Hannah Gadsby as soon as possible!
J & K are very excited about getting a sequel to the movie To All the Boys I've Loved Before based on the books by Jenny Han.
---
Podcast: Play in new window | Download
Subscribe: RSS
---
Transcript to come Spring 2021
---
As always, we'd love to be in discussion with you, magical folx. Post or tweet about the show using #criticallyreading. Let us know what you think of the episode, anything we missed, or anything else you want us to know by dropping a line in the comments or reaching out to us on twitter or Instagram (@thelibrarycoven), or via email (thelibraycoven@gmail.com). You can also check out the show notes on our website, thelibrarycoven.com.
We really appreciate ratings and reviews on iTunes, Google Podcasts, Spotify, or any other platforms. Help us share the magic by spreading the word about the podcast!
Please support our labor by leaving us a one-time tip on Ko-fi or purchasing books from our Bookshop! Even better yet, become a monthly patron via Patreon and you can unlock a bunch of exclusive perks like mini-sodes, bonus episodes, and access to our community of reader-listeners on Discord.
The podcast theme song is "Unermerry Academy of Magics" by Augustin C from the album "Fantasy Music", which you can download on FreeMusicArchive.com.
JK, it's magic is recorded and produced on stolen indigenous land: Arapahoe, Cheyenne, and Ute (Kelly) and Chickasha, Kaskaskia, Kickapoo, Mascoutin, Miami, Mesquaki, Odawa, Ojibwe, Peankashaw, Peoria, Potawatomi, Sauk, and Wea (Jessie)
You can support Indigenous communities by donating to Mitakuye Foundation, Native Women's Wilderness, or the Navajo Water Project. These suggested places came from @lilnativeboy