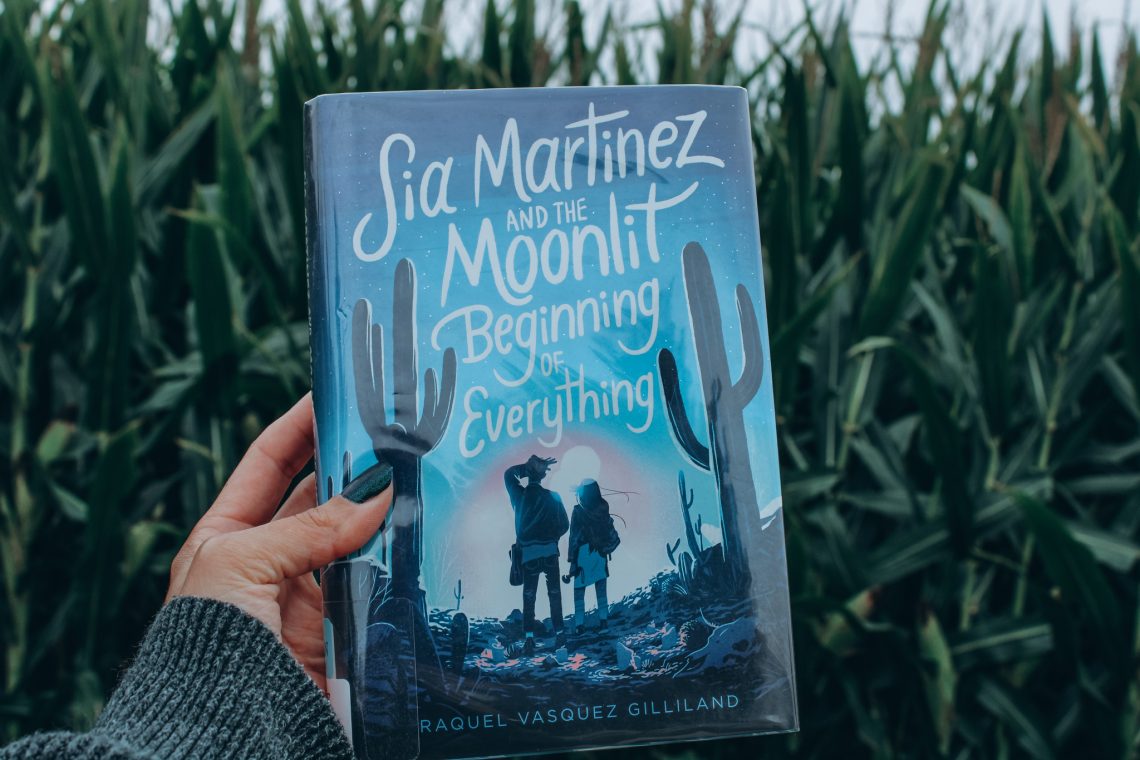 Episode 73: Sia Martínez and the Moonlit Beginning of Everything by Raquel Vázquez Gilliland
Today we'll be discussing Sia Martinez and the Moonlit beginning of Everything by Raquel Vasquez Gilliland, which follows Sia on a wild adventure as she deals with the murder of her mother, friendship woes, and falling in love. Oh and aliens! Chaos does indeed ensure, and there is so much to talk about (though very few show notes) 
Content warning before we get into this book: the book makes mention and so our conversation will touch on topics of sexual assault, child abuse, ICE, police, racism, bullying, PTSD, and Harry Potter
---
Recommend if you like…

Dear America

by Jose Antonio Vargas which recounts the true story or growing up undocumented in America

Stranger Things? Gov conspiracy, young people and adults banding together

Mentioned in the book itself: Aristotle and Dante Discover the Secrets of the Universe by Benjamin Alire Sáenz

Prey! Movie on Hulu. Badass Comanche woman and her dog hunt Predator alien.
Why did we choose this book? 
J's friend Cynthia absolutely loved this book, and she never fails with a good recommendation! Follow her on insta at
CynthiasReadingList
for all kinds of reviews
---
Podcast: Play in new window | Download
Subscribe: RSS
---
As always, we'd love to be in discussion with you, magical people. Drop us a line in the comments or reach out to us on twitter, Instagram (@thelibrarycoven), or via email (thelibraycoven@gmail.com).
Access complete show notes on our website, thelibrarycoven.com.
We really appreciate ratings and reviews on iTunes, Google Podcasts, Spotify, or any other platforms. Help us share the magic by spreading the word about the podcast!
You can support our labor by leaving us a one-time tip on Ko-fi or purchasing books from our Bookshop! Better yet, become a monthly patron via Patreon and you can unlock a bunch of exclusive perks like access to our community of reader-listeners on Discord.
Our cover art is by the talented artist nimsby. The podcast theme song is "Unermerry Academy of Magics" by Augustin C from the album "Fantasy Music", which you can download on FreeMusicArchive.com.
We support #LandBack. The Library Coven is recorded and produced on stolen indigenous land: Arapahoe, Cheyenne, and Ute (Kelly) and Chickasha, Kaskaskia, Kickapoo, Mascoutin, Miami, Mesquaki, Odawa, Ojibwe, Peankashaw, Peoria, Potawatomi, Sauk, and Wea (Jessie)