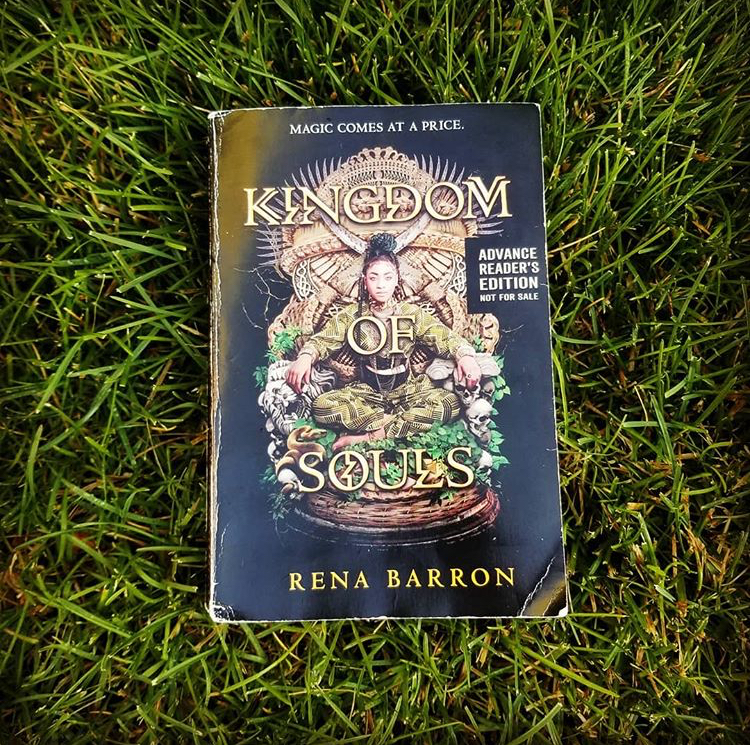 Episode 27: Kingdom of Souls by Rena Barron
Oh hello again, magical listeners! J had the pleasure of reading an ARC of Rena Barron's Kingdom of Souls, and we're finally bringing you our conversation about this expansive, thrilling novel. It has one of the the most complex magical systems of anything we've read for the podcast so far. Enjoy!
Content warning: we briefly discuss sexual violence in this episode. Here is a resource for those who need help: RAINN – Anti-sex violence assistance. Call 800-856-4619 or visit their website for assistance. Take care, listeners.
Please excuse the erratic release schedule lately – J & K are both in grad school and the struggle is real.
And now…links!
You can learn about the orisha and the Yoruba faith if you don't know about them already. J recommends this crash course video (even tho it's by a white dude).
J mentions Daughters of Nri by Reni K. Amayo. We can't wait to read this one. Oh, and the cover is… *swoon*…so gorgeous.
For more on the "divine right of kings", check out this episode of the BBC podcast In Our Time.
We couldn't find any sources to suggest that it is the norm for children in certain cultures to call parents by their first name.
Heka is a god from ancient Egypt and is also an Egyptian word for "magic".
Oh the "mind/body" problem. One of philosophy's fav topics. Disability studies scholars such as Eli Clare, Margaret Price, and Sami Schalk have taken up the issue as well. See Price's 2014 article "The Bodymind Problem and the Possibilities of Pain" (full text available here).
For more on witchcraft in present-day Africa, see Dr. Mwizenge S. Tembo's article "The Witchdoctors are not Wrong: The Future Role and Impact of African Psychology on Individual Well-Being" (full text available here).
The "blood moon" has many different meanings (here's one take).
ICYMI ("it" being learning wtf "race" and "ethnicity" are and how they differ), here's a helpful Crash Course Sociology video.
We've mentioned "White Fragility" (the concept, article, and book) many times on this podcast. We think it should be required reading for white ppl. There are a lot of good discussion/reading guides out there, too.
We've heard excellent things about PTSD researcher Bessel van der Kolk's book The Body Keeps the Score: Brain, Mind, and Body in the Healing of Trauma. Maria Popova's essay about the text on her blog Brain Pickings is also worth reading.
When we say that the gender binary as colonial concept, this is what we mean. See also María Lugones's article "Heterosexualism and the Colonial/Modern Gender System" (full text available here)
---
As always, we'd love to be in discussion with you, magical folx. Post or tweet about the show using #criticallyreading. Let us know what you think of the episode, anything we missed, or anything else you want us to know by dropping a line in the comments or reaching out to us on twitter or Instagram (@thelibrarycoven), or via email (thelibraycoven@gmail.com). You can also check out the show notes on our website, thelibrarycoven.com.
We really appreciate ratings and reviews on iTunes, Google Podcasts, Spotify, or any other platforms. Help us share the magic by spreading the word about the podcast!
Please support our labor by leaving us a one-time tip on Ko-fi or purchasing books from our Bookshop! Even better yet, become a monthly patron via Patreon and you can unlock a bunch of exclusive perks like mini-sodes, bonus episodes, and access to our community of reader-listeners on Discord.
The podcast theme song is "Unermerry Academy of Magics" by Augustin C from the album "Fantasy Music", which you can download on FreeMusicArchive.com.
JK, it's magic is recorded and produced on stolen indigenous land: Arapahoe, Cheyenne, and Ute (Kelly) and Chickasha, Kaskaskia, Kickapoo, Mascoutin, Miami, Mesquaki, Odawa, Ojibwe, Peankashaw, Peoria, Potawatomi, Sauk, and Wea (Jessie)
You can support Indigenous communities by donating to Mitakuye Foundation, Native Women's Wilderness, or the Navajo Water Project. These suggested places came from @lilnativeboy